Alto Digital Signage
Digital Signage to Enlighten, Educate and Entertain
ALTO is a highly flexible digital signage solution that enables clients to collaborate, interact and inform customers and employees across multiple endpoints. ALTO is a SaaS (Software as a Service) platform that utilizes interactive video and chat technologies to enable clients to better inform, entertain and engage their customers and staff.
ALTO enables clients to deliver more personalized customer experiences through rich media and interactive applications, all centrally managed through ALTO Digital Manager. With ALTO Digital Designer, users can easily create or import slides. It even accommodates content from third party providers.
ALTO Digital Manager
Through ALTO Digital Manager, customers can gain visibility into all interactive displays and content. All configurations can be managed remotely to help ensure adherence to corporate governance and compliance. Policies can be created and managed to orchestrate actions and change themes.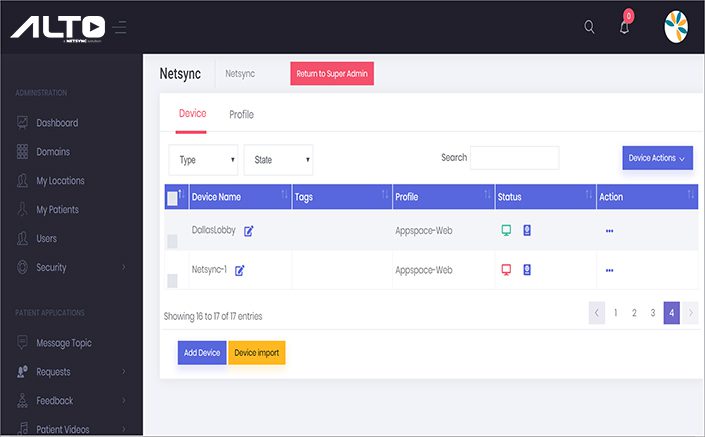 ALTO Digital Designer
ALTO Digital Designer enables users to easily manage slide decks from an intuitive, easy-to-use visual editor. Images and videos can be imported, transitions can be added or deleted, slides can be edited, and future deployments can be scheduled.
With a robust feature set, ALTO Digital Designer provides users with the ability to add rich media formats, create media libraries, leverage design templates, add dynamic content, build for different screen resolutions, implement layers of content and play YouTube videos.
ALTO provides users:
Accelerated Collaboration―communicate more easily through conferencing and chat features.
An Enhanced Interactive Experience―entertain and inform your audience, and engage them through multiple devices.
Easier Dissemination of Information―seamlessly, quickly, and easily deliver need-to-know and time-sensitive information to your audience.
Real-time data insights―capture and immediately act on customized information from audiences.
Digital Signage to enlighten, educate and entertain guests and employees
DOWNLOAD
Netsync is consistently recognized by our key partners and in national publications for our continued technical expertise and a track record of customizing technology solutions to digitally transform organizations.